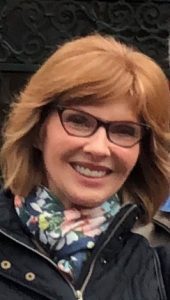 "Joy" is a word Kristie Hansen-Mendez uses generously to describe the unique living experience at The Danish Home of Chicago. "My mother truly loved living here in her last months. The joy of friendship that she experienced in this boutique environment is truly special and was so important to her well-being. It gave her such a great quality of life," Kristie says. "As my husband and I think about our own retirement decisions, all signs are pointing to The Danish Home."
The Danish Home of Chicago is fortunate that Kristie has agreed to chair its $10.5 million capital campaign for physical updates and improvements, as well as increased funding for charitable care. Kristie is the only child of a cabinet maker who emigrated from Denmark to America in his mid-20s, and she is deeply connected to her Danish heritage. Her late mother was of German-Cherokee Indian descent, but "fell in love with all things Danish."
Kristie was raised in Rockford, Illinois, where she joined the Danish Sisterhood of America as a teenager. She also belongs to the Danish-American Rebild Society, Museum of Danish America, and is an active member of The Danish Home's Women's Auxiliary and the Danish Association.
"We always knew about The Danish Home," says Kristie. "My mother, Lydia, was a nurse at a retirement community in Rockford, so we knew how important the right location is for senior living. Everything just came together. When my mother needed care, The Danish Home opened its doors to her. It was a godsend."
As campaign chair, Kristie shares with potential donors her profoundly personal reasons for championing the continued well-being of the senior community that has served older adults for nearly 130 years.
"The Danish Home provides lovely living now and will continue to for generations far into the future. The Danish Home is more than a retirement community; it is a Danish-American institution, a community cultural center and gathering space for friends and family across the generations," Kristie stresses. "It must keep going, and that's what this campaign is all about."
Call today to learn more or to schedule a visit
773-775-7383