"My husband took his very first steps at The Danish Home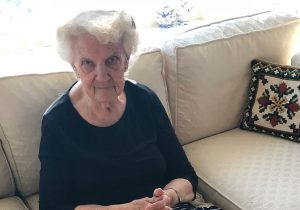 ," said Esther Sorensen. "Years later, he took his last there, too."
A resident of The Danish Home, the late Jim Sorensen attended The Danish Home's annual picnics as early as toddlerhood, as did Esther. Born in Denmark and friends from the homeland, Jim and Esther's parents immigrated to America in the early 20th century. The two families attended church with one another, spent Sundays and holidays together and played rousing games of Monopoly.
"I had a crush on Jim since I was eight years old," said Esther, who became his bride in 1954. Ten years later, the couple bought the lovely corner home in Wood Dale in which Esther still lives.
Throughout the years, they were active volunteers at The Danish Home. Jim was chairman of the board as well as the trustees. Esther chaired the Women's Auxiliary, spearheading The Danish Home's many annual events, including the picnics of her childhood. For 45 years, she volunteered her time pampering residents in the home's beauty salon.
Outside of The Danish Home, Jim served as chairman of the board of Lutheran General Hospital and helped establish its Down Syndrome Clinic. A partner with the Ernst and Young accounting firm, he traveled often, while Esther tended to their four children (three of whom were born within one year).
Despite the hectic pace, Esther looks upon these years fondly. She recalls her childhood with even greater affection. "I had the most wonderful parents. There was so much love and care in my home. I am really blessed," she said, noting that many of the Danish traditions of her childhood are also observed at The Danish Home.
"Just as my mother let me choose my favorite foods on my birthday, residents at The Danish Home can do the same. Lillejuleaften and Christmas were also very special growing up, just like they are at The Danish Home."
Enduring traditions and The Danish Home's significance throughout her life figure prominently in Esther's decision to live there herself, once her ability to drive is diminished. "In a world where things change so fast, it's good to know that familiar customs are still alive," she said.
She is also glad she won't have to shop around. "I know people who visit 16 different communities before they know where they will be, but for me it's all settled."
Even more enticing are the family connections that mean so much to Esther. Because of the close relationships she and Jim and their parents had with Danes in the Chicago area, many residents of The Danish Home and their children are her longtime friends.
"I'm thankful The Danish Home is small; it's been like family to me from the time I was very young." Esther also appreciates that when Jim developed Alzheimer's disease, he was already accustomed to The Danish Home's surroundings.
"That's the main thing for me," said Esther. "The Danish Home is home."
Call today to learn more or to schedule a visit
773-775-7383