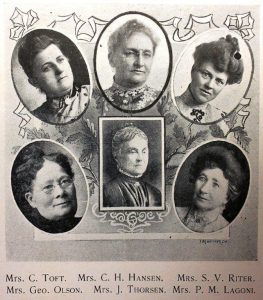 In March of 1891, a group of twelve women of Danish descent gathered with a vision to assist elderly people who had immigrated to the Chicago area from Denmark. With charity in their hearts, these pioneering women founded The Danish Home (then called "The Society of the Danish Old People's Home"), which was incorporated on October 27, 1891. The following year, the first building was purchased, a spacious frame house in Norwood Park on the site where The Danish Home presently stands.
In 1912, despite hard economic times, funds were raised for the construction of a new building. The cornerstone was laid in 1914 and can still be seen today, a proud reminder of The Danish Home's rich history. In 1925, a new wing was constructed, accommodating more rooms and residents.
In 1963, a second wing was built, including a healthcare section, a larger kitchen and dining room, and a new beauty salon. Currently, a capital campaign is underway to increase charitable care and expand and modernize our building yet again.
Throughout history, generous donors and volunteers have offered their time and resources to enhance not only the physical home, but to preserve the Danish customs and conventions that inspired its founders nearly 130 years ago. Today, The Danish Home welcomes and celebrates residents of all heritages.