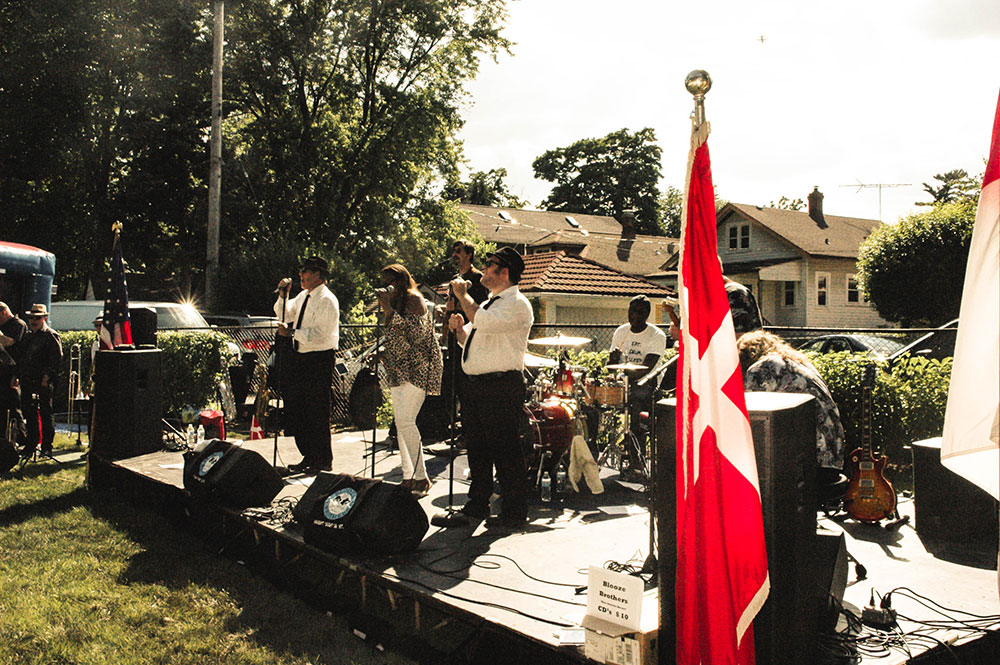 On the first day without rain all week, The Danish Home of Chicago boutique senior living community welcomed nearly 600 guests to its annual Summerfest June 23rd. Children, teens and adults from the home's Norwood Park neighborhood came as well as the many friends, family members and supporters of the not-for-profit residence.
"It was a beautiful day for our Summerfest," said The Danish Home president and CEO Scott Swanson. "We are always so excited to open our doors to the community in such a fun, festive way."
First on the agenda for most visitors was the food tent featuring all-American staples like hot dogs, hamburgers and barbecued ribs as well as Danish choices such as smørrebrød (open-faced sandwiches) and frikadeller (Danish meatballs). A beer tent on the patio served Carlsberg, a Danish beer, and yet another offered homemade Danish baked goods, including the famous Kringle. After dining, visitors took pictures in front of a backdrop of Copenhagen's famous Nyhavn canal and entertainment district.
Situated across the lush grounds of The Danish Home were various tents tended by dedicated volunteers from The Danish Home's 200-member Women's Auxiliary. They featured a Treasure Chest containing collectibles and other goods for sale, a Jewelry Booth as well as Lucky Buckets offering some fetching silent auction prizes and a Lucky Chances raffle. A Lego tent with the beloved Danish blocks entertained creative children (and some adults, too), while other youngsters chose elaborate face painting, a bouncy house and unlimited games.
As the main stage was readying for the highlight of the afternoon, a Blues Brothers tribute band to "Chase the Blues Away," a New Orleans-style quartet jazzed up the crowd. When "Jake and Elwood" took the stage, dancing and singing iconic Blues Brothers tunes and other popular songs accompanied by a soulful female vocalist and a full-sound band, toes really started tapping.
"We chose a Blues Brothers theme to bring home the idea that living in a caring, intimate community like The Danish Home can do so much to mitigate the loneliness and isolation many seniors face," said Swanson.
Indeed, a sunny day after a very soggy week was even more fitting for the theme of "Chasing the Blues Away." Said Swanson, "We didn't plan that, but it sure was nice."
Friends of The Danish Home are welcome to attend the boutique senior community's annual benefit on September 15, "Cuisine and Corks," featuring Danish cuisine from professional chef Stig Hansen, live music, and an open bar with premium wines, beer and cocktails. Visit www.danishhomeofchicago.org for further information.
---

The Danish Home
A boutique continuing care retirement community in the quiet Chicago neighborhood of Norwood Park, The Danish Home offers residents a secure, caring environment with all the comforts of home. Founded by 12 pioneering women with a vision to assist older adults who'd emigrated from Denmark to work and live out their lives in America, the senior community warmly welcomes all who cherish Scandinavian traditions and customs. 
Call today to learn more or to schedule a visit
773-775-7383