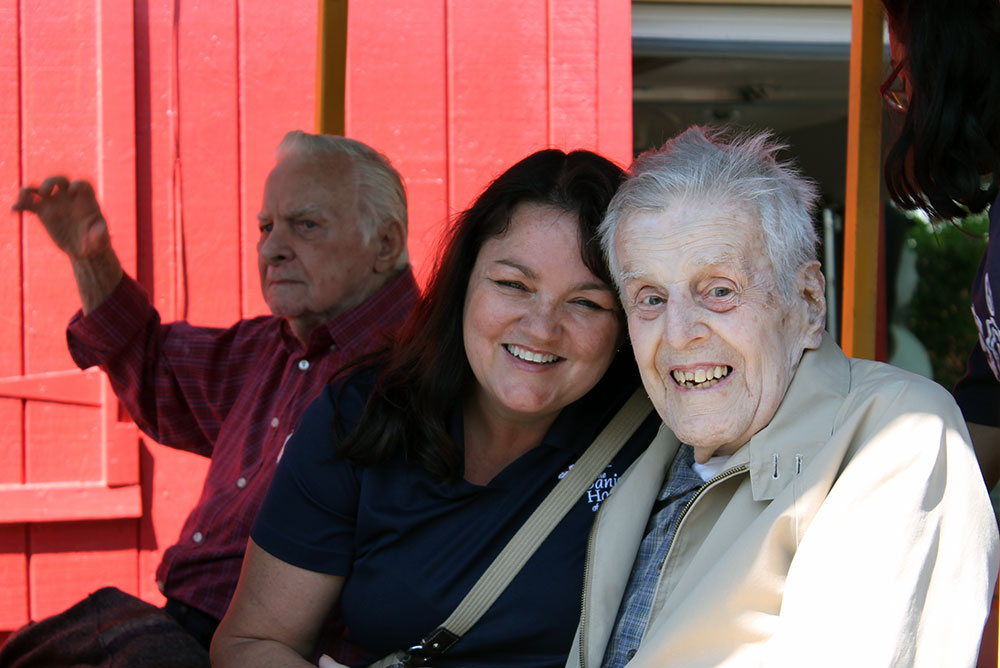 Robin Decker answers her office phone with all the pep and energy her job as director of resident life at The Danish Home of Chicago senior living community demands. "Activities!" she sings into the receiver.
This is the upbeat spirit with which she and her team plan and implement the many resident activities, outings and social gatherings on The Danish Home's calendar each day.
"We're a family here," said Robin, explaining that she and her full-time assistant, Ed Lim, and part-time associates Mary Hefferman and Kasy Rodriquez regularly encourage residents' feedback about what they want to do and where they want to go.
What's more, said Robin, "Each month, I come up with a new game, and residents get to vote 'yay' or 'nay' on whether we play it again." Residents also offer their input on preferred activities and outings at resident council meetings. Often, it's places they haven't visited in a while, and sometimes it's a spontaneous idea.
"Someone suggested we go to Russell's Barbecue in Elmwood Park, and I said, 'I love that place; let's go!'" said Robin. However, there are several factors she and her team must keep in mind on any outing, such as bus parking accommodations, mobility implements accessibility, and the availability of a meal.
"We know our residents and their families so well. We have very little staff turnover, and we are all very close. A lot of senior communities say that, but here it's really true. You don't see that as much in larger, more institutional environments."
She would know.
Throughout her 32 years of experience in long-term senior care, Robin has worn many hats. At the age of 16, when she was still in high school, she earned her nursing assistant certification and soon after took a job as a part-time CNA at a 225-bed senior community in a Chicago suburb. There, she remained for 28 years, moving into positions such as rehab technician, social services administrator, marketing director and, finally, activities director.
It was during this time that Scott Swanson, president and CEO of The Danish Home, met Robin during a consulting assignment. He recognized and appreciated Robin's energy, talent and dedication to the seniors she served. When Scott heard she was available for part-time work, he hired her. Working in resident life only on Sundays at first, Scott offered her the position of full-time director of resident life in 2015.
She was only too happy to accept. "I love this job!" enthused Robin, whose goal is for residents to initiate games and activities on their own, particularly in the evenings and on weekends. She is, nonetheless, a willing and active participant. "I don't just sit in the bus and wait or hang back and watch," says the woman who thoroughly enjoys the company of the seniors she's worked with for over three decades.
"I love the history each resident has and the fascinating stories they share," said Robin. "My daughter recently visited Ellis Island, and I told her to look up the names of our Danish Home residents who immigrated to the U.S. It's so cool that I know some of those people!"
Among the many happenings The Danish Home's activities team offers to facilitate friendships and engage mind, body and spirit, Robin is especially looking forward to the trip she and residents will take this summer to Glory Bound Rescue Ranch, a no-kill senior animal shelter in Marengo, IL, where she volunteers and for which residents have been raising funds.
"I work with senior people and senior animals," she said. "I love them both!"
Call today to learn more or to schedule a visit
773-775-7383