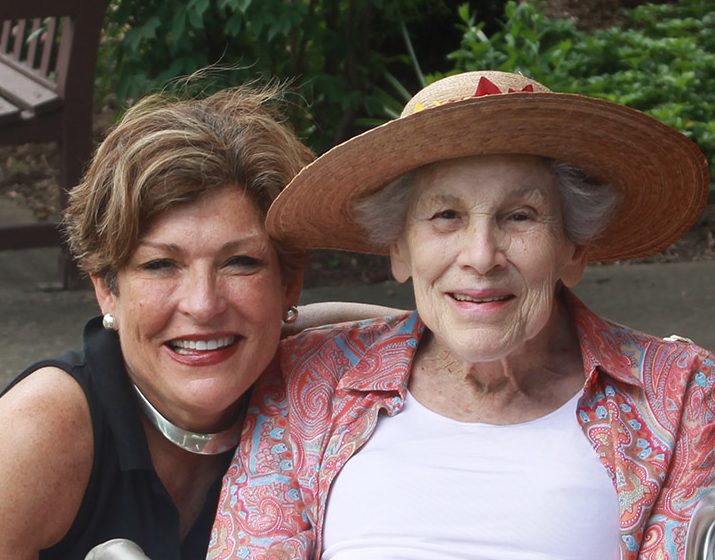 The Danish Home boutique senior community in the Chicago neighborhood of Norwood Park, caught Marge Mickey's eye long before she moved in.
The Danish Home, a boutique senior community in the Chicago neighborhood of Norwood Park, caught Marge Mickey's eye long before she moved in as a resident in 2012. Having raised her family in nearby Edison Park, Marge often admired its gracious edifice and lush grounds and said she'd like to live there some day.
"Mom always told us that she didn't want to live with us when she got older," said her daughter, Anne Mickey. "She said she loved 'that Danish Home' and called it a 'hidden gem.'"
When, years later, Marge moved in to The Danish Home after having lived at another senior living community, "There was absolutely no comparison," said Anne, becoming emotional. "Care at The Danish Home is phenomenal, over the top. Everyone knows all the residents, from the CEO to the kitchen and dining room staff, housekeepers, nurses, even admin and accounting staff."
A frequent visitor of The Danish Home and new member of its Women's Auxiliary, Anne also knows every staff member and resident by name and feels a part of The Danish Home family. "I am not Danish, nor is my mother," said Anne, who is of Irish and German descent. "But I feel like I am!" she added, joking that she's begun to drink Carlsberg beer and eat open-faced "smorrebrod" sandwiches.
Even though they do not share Scandinavian heritage, Anne and Marge relish The Danish Home's commitment to celebrating its roots. "I think it's very special that The Danish Home carries on its Old World traditions and brings them to life in everything they do. Coffee and homemade Danish butter cookies are served daily, and each meal is made from scratch with tender loving care. They even participate in parades and made an amazing Viking ship for their float," said Anne.
Beginning April 22 with a kick-off celebration at Schaumburg's Renaissance Hotel, The Danish Home will honor its 125th anniversary with four special events, including a Tivoli Gardens and Casino Night on June 24, "Cuisine and Spirits" on August 10, and an enchanting evening of "Lillejuleaften" ("Little Christmas Eve") on December 9.
"What I love is that, in addition to these special events, The Danish Home always has something fun going on for residents and their families," said Anne, citing the community's monthly birthday parties, family nights, outings, and daily activities. "Family nights can be great fun; there is always an entertainer who gets everyone going."
For Marge, bus outings are the real highlight. "She goes on every one," said Anne. "Mom wasn't a Cubs fan, but she loved going to the Cubs games this year. She even has a Cubs shirt and baseball cap to wear to the games!" Indeed, the allure of The Danish Home for Marge has never waned. Her daughter shares her enthusiasm.
"My siblings and I are delighted to have our mom at The Danish Home. She tells me all the time, 'You know I'm really happy here.' She'll often spend a night or two with me and say, 'okay, it's time for me to go home.'"
Call today to learn more or to schedule a visit
773-775-7383