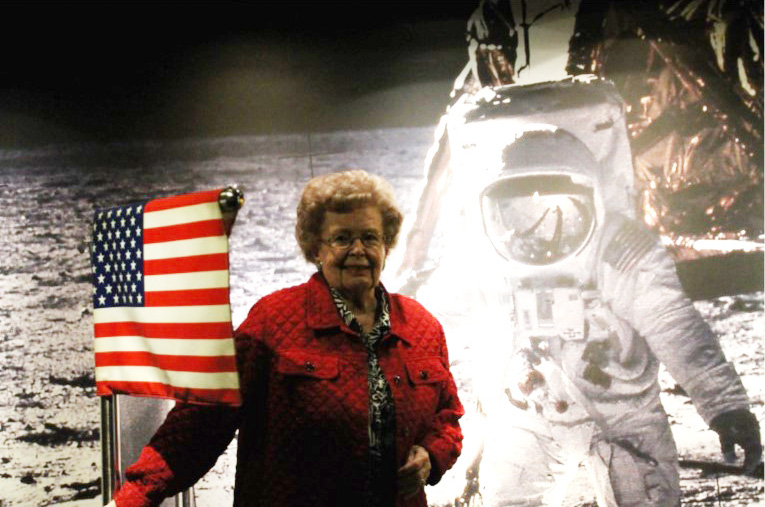 It was maybe the best part of the trip. Although Julie Krueger believes she's gained weight due largely to the great food at The Danish Home, she weighs a lowly 47 pounds. Or at least its equivalent, if she lived on the moon. Julie was one of about a dozen residents from the senior living community to take a field trip to Chicago's Adler Planetarium earlier this month.
"They have all sorts of displays and exhibits, and there was a place for me to see what I'd weigh if I was on the moon. It was 47 pounds. That's much better than it is here on earth," she said. "That was really fun."
This was actually just one aspect of an enjoyable adventure Julie said.
"I hadn't been at the Adler Planetarium in a long time. It was so nice because it was a Thursday and there weren't many other people there. We had the whole place almost to ourselves."
The day included a formal presentation in the auditorium. "Then we got to look up at the skies and the planets," she said. "We walked around and looked at all the different displays and exhibits. There are all sorts of things to look at and read about." The group also had a great lunch in a room looking out over Lake Michigan.
Julie moved to The Danish Home six years ago from her home in Park Ridge. A retired teacher, Julie had been working part-time at a shop with a woman who was a volunteer at The Danish Home and a member of the Women's Auxiliary.
"She invited me to The Danish Home for teas and lunches, and that's how I became familiar with it. It was so lovely," she recalled.
Her move to The Danish Home was a good one, Julie said. "There are lots of activities and things to do here. I participate in arts and crafts projects and other programs, and we play a lot of card games. You might even walk away from a game with a little bit more spending money than you started with," she said. "And we have great outings to museums and other fun places. We've even gone to Navy Pier to see a replica of a Viking ship."
Julie concluded, "It's just a very warm, friendly place. The name of it, The Danish Home is accurate. It is just like a home."
The Danish Home, founded in 1891 in the Danish tradition of caring for its elderly, is a not-for-profit organization, privately financed and endowed, providing a comfortable, dignified community for the elderly. For additional information, visit DanishHomeOfChicago.org.
Call today to learn more or to schedule a visit
773-775-7383