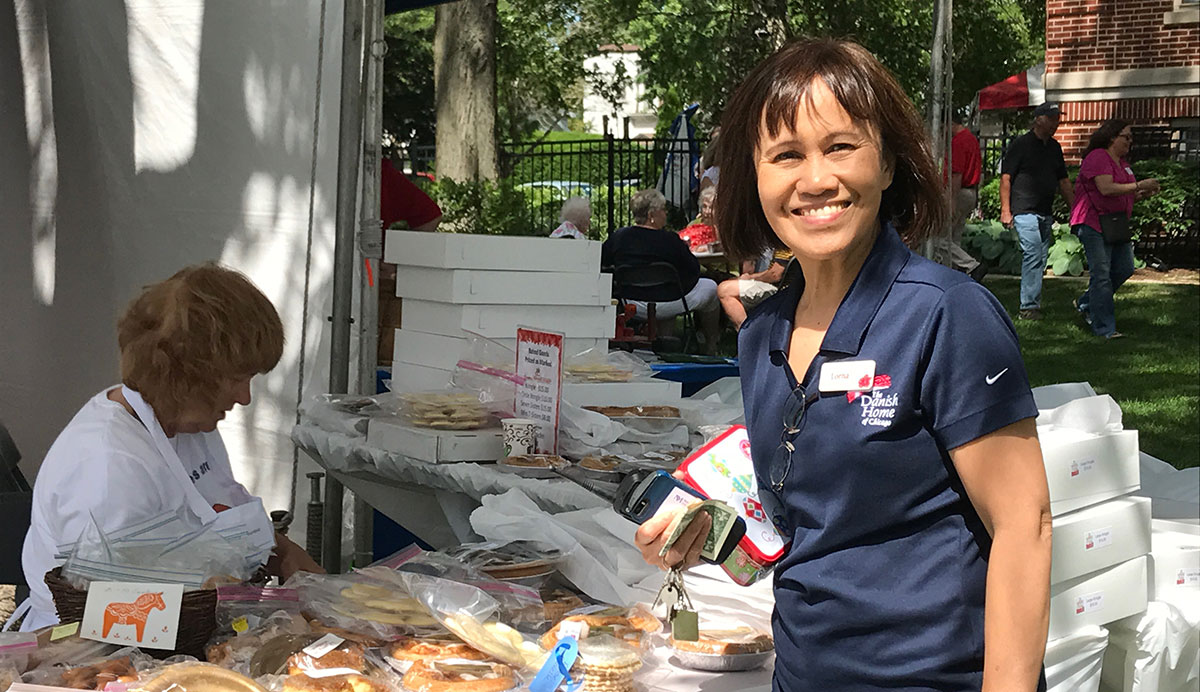 On a picture-perfect day June 24, The Danish Home of Chicago boutique senior living community celebrated "Spirit of Family" with an outdoor festival reminiscent of Tivoli Gardens in Copenhagen.
While scores of families came out for The Danish Home's 125th anniversary event, it may as aptly have been called "Spirit of Volunteers." Over 100 of them devoted weeks to planning and putting on the multi-faceted, eight-hour event that included food and beverages, rides, live music, activity tents, and casino games for adults.
Nestled quaintly in Norwood Park, The Danish Home has a long history of volunteer dedication to providing a safe, comfortable haven for older adults. For generations, friends and family of residents have come together to support the community they, too, consider home.
"Many of our volunteers grew up attending and helping out at our events and programs," said Scott Swanson, president and CEO of The Danish Home. "Others are giving back in gratitude for the care their loved ones received or are receiving. All value what we represent in quality and commitment to charitable care." Said April Pasquale, The Danish Home executive assistant and community coordinator, "Some people are third and fourth generation volunteers at The Danish Home."
Other voluntary support comes from The Danish Home's 200-member Women's Auxiliary, board members, residents and staff, and Danish community partners, including the Danish Sisterhood Lodge #4, Dania, and the Danish American Athletic Club.
In addition to event planning and execution, volunteers also provide residents with social interaction. "Companionship is a big part of what volunteers offer our residents…playing games with them, taking them on outings, hosting birthday parties," said Pasquale. Added Swanson, "Our residents like to hear their stories and get updates on their families or recent travels. Volunteers see and confirm who we are and help tell our story to the greater community."
The Danish Home story is certainly worth telling. One hundred and twenty-five years ago, 12 visionary women founded The Danish Old People's Home (as it was formerly called) so that people who'd emigrated from Denmark to America would be assured of quality care when they grew older. Today, the home still stands on its original site, and loyalty to the home and residents from staff, family, and friends remains steadfast. Residents of all heritages are welcome.
"We have a lot to celebrate," said Swanson. Four "Spirit of 125" gala events this year commemorate The Danish Home's storied history, including a "Spirit of Heritage" kick-off luncheon in April and the Tivoli Gardens event in June.
Up next is "Cuisine and Spirits" on August 10, featuring savory creations from world-renowned Danish chef Stig Hansen and complementary wine and beer. On December 9, the Danish tradition of "Lillejuleaften" (little Christmas), with gifts from Santa and carols around the tree, will close out the celebratory year.
None of these special events, nor the many that occur regularly at The Danish Home in a given year, would be possible without the home's extraordinary volunteers. The Tivoli Gardens festival was barely over, and their minds were already on making the upcoming August and December events as special as The Danish Home itself.
Call today to learn more or to schedule a visit
773-775-7383