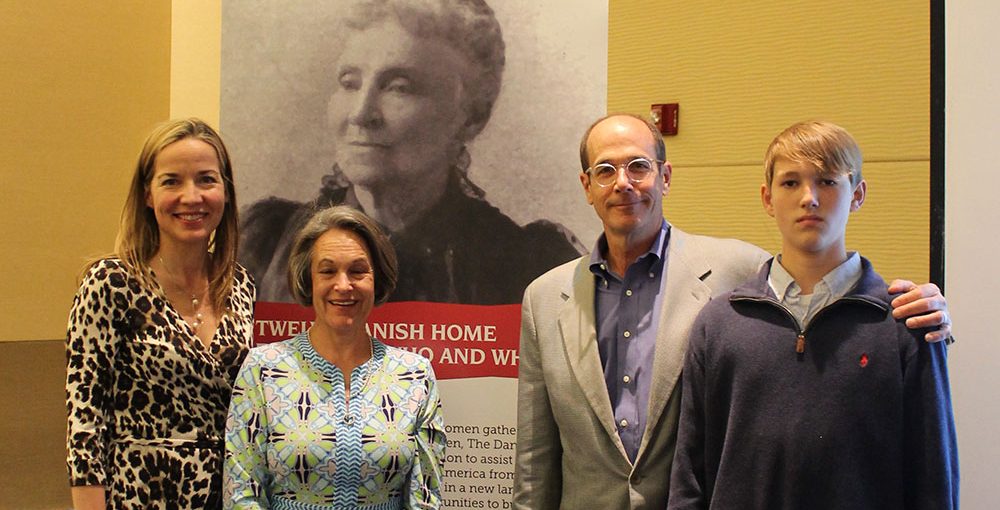 A chance Google search, which led to a popular blog, introduced a New York resident to his family's prestigious legacy beyond anything he could have imagined. John Thorsen, Jr. of East Hampton, New York, fortuitously stumbled on The Hope Chest, a blog of The Danish Home of Chicago. "I Googled my great-great grandmother Emma Thorsen and right away, boom! The Hope Chest came right up!" he recalled. To Thorsen's astonishment, he learned that Emma was the driving force behind the twelve founding women of The Danish Home of Chicago, a 125-year old gem in Norwood Park.
Founded in 1891, The Danish Home is a boutique retirement community. The Hope Chest is a blog celebrating Danish and Scandinavian contributions to American culture, and honoring the founding women of The Danish Home. The blog is an engaging combination of historical fact and modern fiction. Launched in 2013, The Hope Chest attracts more than 1,000 loyal readers monthly from around the world.
Thorsen recalled that last summer, he and his family traveled to Copenhagen to visit his ancestors' homeland. "That had kindled an interest in me," he said, explaining that it, in turn, led to his discovery of The Hope Chest. Upon reading the blog, he learned that his great-grandmother Emma had emigrated to Chicago with her husband and five children, and 22 years later, led the founding of The Danish Home to care for aging individuals of Scandinavian descent.
Thorsen said that he was impressed to learn that a woman of the 19th Century would "have the wherewithal and the persistence that it took over ten years to raise money to make The Danish Home happen. Emma didn't give up. She kept at it for ten years and organized other women and was very persistent and got it done. In the 19th Century there had to have been impediments because of gender for women to organize and buy property. I'm very proud of her."
Thorsen and his sister Leslie, and his 16-year old son Miles, came last month to visit The Danish Home, and to attend the Women's Auxiliary Luncheon, the first of four major events that will be celebrating The Danish Home's 125th anniversary. He was touched by the instant feeling of family, and moved by all he witnessed about the community.
"There's an enduring legacy of my ancestors in Chicago. To pull up in front of The Danish Home and see this solid, impressive brick building which has been on the same site since it was founded by my great-great grandmother was amazing. To see the bronze plaque with our family name…it all makes me feel very proud of her legacy. My ancestors left a mark in Chicago. We were there and left a mark and did something positive that endures," he said.
About The Danish Home of Chicago's 125th Anniversary
The Danish Home of Chicago is celebrating its 125th anniversary through a series of events. June 24, 2017 will be Tivoli Gardens and Casino Night from 2 p.m.-10 p.m. at The Danish Home of Chicago. The event will feature games, rides, live entertainment and more. On August 10, 2017, The Danish Home will feature its Cuisine and Spirits event. Chef Stig Hanson will create some of Scandinavia's finest dishes and pair them with wine and beer. December 9, 2017 will be Lillejuleaften, The Danish Home's "little" Christmas celebration with gifts from Santa and carols around the tree. This event will be held at Hyatt McDonald's Campus.
Read this article in the Chicago Tribune.
Call today to learn more or to schedule a visit
773-775-7383