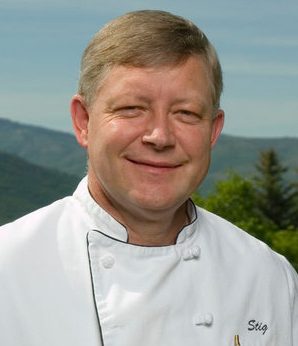 The Danish Home of Chicago boutique senior living community will once again welcome professional chef Stig "The Viking Chef" Hansen to its annual benefit on September 15, this year entitled "Cuisine and Corks: An Evening in the Garden and Focus on Our Future."
Last year, Hansen prepared gourmet Nordic cuisine for The Danish Home's 125th anniversary celebration; this year, he'll travel from Denmark again to provide guests with a sumptuous, seven-course encore presentation of Scandinavian delights.
Born and raised in Denmark, where his mother taught him to cook as a young child, Hansen served as a chef's apprentice with Lauritzen Shipping Line right out of high school. After graduating from the Danish State Culinary School, he returned to the sea as a chef aboard freighters around the world.
He gained further epicurean experience at world class hotels in Copenhagen and Greenland, and in the U.S., Hansen worked at Los Angeles' renowned Scandia Restaurant and Nendel's Inn in Portland, OR. His cookbook, Cooking Danish: A Taste of Denmark, won the 2007 national "Best Books" Award for international cookbooks.
It is no surprise that Hansen is returning to The Danish Home to offer uniquely Scandinavian cuisine, as he has been a dedicated supporter of Danish communities and organizations everywhere he has lived.
From delectable starters to melt-in-your-mouth dessert, Hansen will discuss each of the meal's courses as they are plated and share his vast knowledge of Danish gastronomy and culinary traditions.
Along with new Nordic dining, the benefit event from 6:00-9:30pm in The Danish Home's garden under the stars will feature live entertainment and wine, beer and premium cocktails from an open bar. The evening will also include the bestowing of the 2018 Essence Award on Peter and Irma Orum and family in recognition of their service and support of The Danish Home. Future plans for the community that has provided top-quality living and care for older adults for well over a century will also be unveiled.
Those interested in attending and/or sponsoring this event may register by August 28 at (773) 775-7383, ext. 4, or www.danishhomeofchicago.org/events/. Cost is $125 per person; premium sponsor tables are available. Cocktail attire is requested, please. The Danish Home is located at 5656 N. Newcastle Avenue in the quiet Chicago neighborhood of Norwood Park.
---
The Danish Home, founded in 1891 in the Danish tradition of caring for its elderly, is a not-for-profit organization, privately financed and endowed, providing a comfortable, dignified community for the elderly. For additional information, visit DanishHomeOfChicago.org.
Call today to learn more or to schedule a visit
773-775-7383