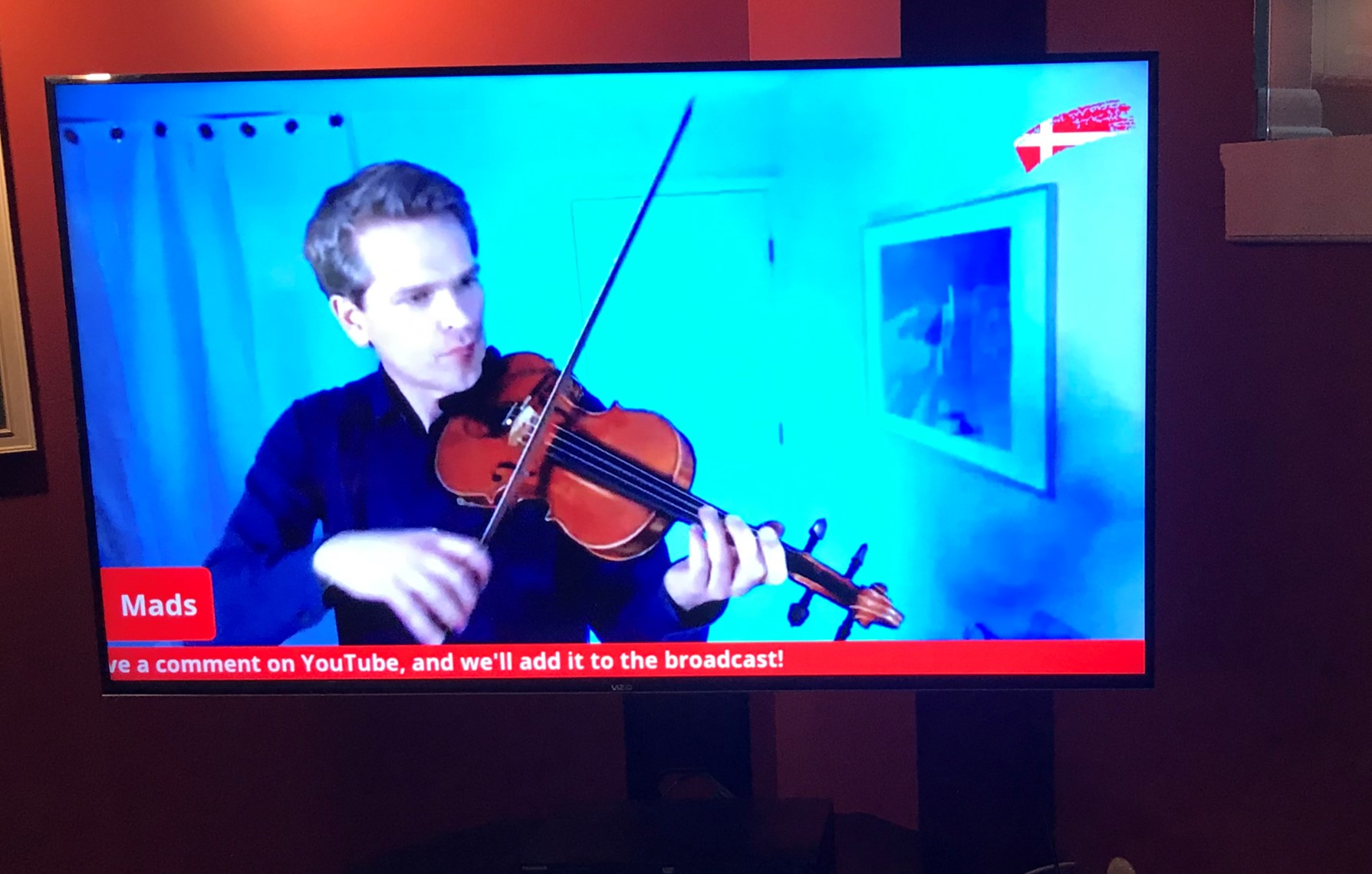 In the 129 years since its founding in 1891, The Danish Home of Chicago had a first.
On May 21, the Norwood Park boutique senior community and perennial host to traditional festivals and events presented a live, virtual concert featuring two-time Grammy Award-winning violinist and composer Mads Tolling. Streamed on YouTube, it was a tender gesture to unite residents and staff with families and friends who've been apart during the coronavirus pandemic.
Performing from his residence in San Francisco, the world-class Danish-American musician delighted viewers with a three-set, 12-song show ranging in style from classical to folk, jazz and rock. Also included in his vast repertoire were his surprise version of the theme from "The Flintstones" and his own composition, a folksy, upbeat number called "Danish Dessert" that illustrated why he is one of the world's great talents.
Entitled "We'll Meet Again," a 1940s-era song popularized by Vera Lynn (and Tolling's encore number), the hour-long event was interspersed with a video highlighting the quality of life at The Danish Home and photos of residents and staff adapting to new social dynamics and alternate activities amidst COVID-19. The stream also included live comments, donations to The Danish Home, and messages of thanks and encouragement from president and CEO Scott Swanson and the Danish Consul General in Chicago, Jakob Skaarup Nielsen.
"This concert connects all of us," said Nielsen, who, along with Vice Consul Lisbeth Christensen, accepted The Danish Home's Essence Award for exceptional service on behalf of the Danish Consulate last year.
Said Swanson, who emceed the virtual event, "We're celebrating our wonderful residents and staff, music, and the unending gift of community and friendship." While the concert did provide opportunities to give to the non-profit senior community, its primary purpose was to bring friends and family of The Danish Home together in spirit and heart while sheltering at home.
Also a friend of The Danish Home is Tolling, who played at the home's annual benefit last September along with jazz guitarist Jacob Fischer. Introducing each song with an anecdote relating to the tune or life growing up in Copenhagen, the 39-year-old played solo with the help of looping technology that substituted for the musicians with whom he often performs.
Opening with Duke Ellington's "Don't Get Around Much Anymore," Tolling remarked on the appropriateness of the song for the current times. "This is the story for me in San Francisco; I don't get around much these days."
In addition to the Ellington opener, Tolling enchanted residents and viewers across the country with his fresh, jazzy take on classics like George Gershwin's "Someone to Watch Over Me," Jimi Hendrix's "Hey Joe," Vittorio Montis' "Czardes," Astor Piazzolla's "Libertango," well-known Danish folk songs, and more.
Amidst grateful thanks to Tolling, The Danish Home staff, residents, donors, friends and families, Swanson said, "This concert is a gift to the community…and we will meet again."
If you haven't seen the virtual Mads Tolling concert or you would like to watch it again, the link is available on The Danish Home's website at www.danishhomeofchicago.org.